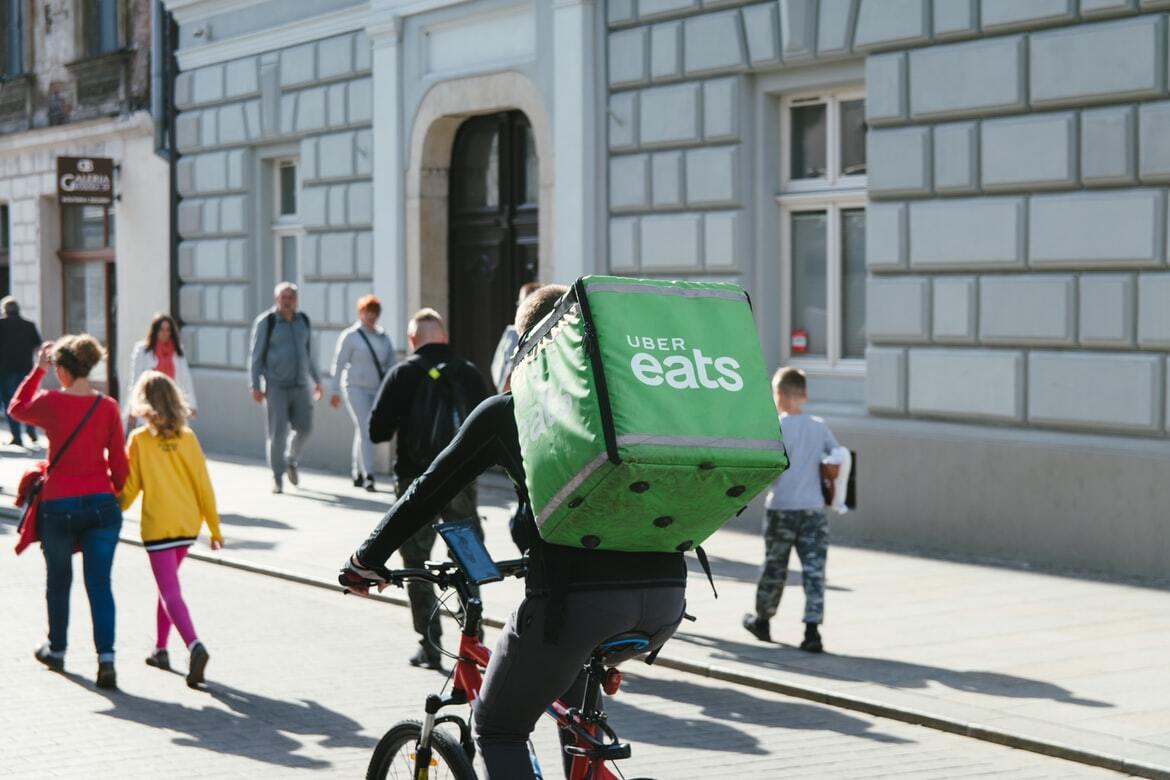 New data reveals that 36% of us get fast food delivered, which is up by 28% from two years ago.
Fast food delivery has been on the rise for some time, and the pandemic has only accelerated this trend. Today, a total of 74% (40 million) adults say that they use takeaway or fast food delivery services.
Consumers have become accustomed to ordering food or picking it up for takeaway whilst unable to dine out during the ongoing lockdowns. Now, almost half of adults say that they use a fast food delivery service at least once a month.
Who is using fast food delivery services?
When taking a closer look at the people using fast food delivery services, we can see some trends and potential reason behind usage. For example, TGI found that parents who order fast food are more likely to have children at home that are of school age or younger.
Parents that use these delivery services are also more than twice as likely than the average GB adult to have children that are in primary school/aged 5-9. The pressures of cooking for a family and the time it takes, can make clicking on a fast food delivery app all the more tempting.
FEATURED READS
How can brands reach high-spending consumers?
10% of adults say that they order fast food for delivery once a week or more and a quarter of these consumers typically spend £15 or more per person.
So, how can delivery companies reach consumers that are willing to spend more on their food?
TGI reveals that these consumers are generally happier to spend what they want without worrying about the price. They are also:
Particularly likely to be responsive to sponsorship and likely to be engaged by in-game advertising.
Enjoy dressing well.
32% of those who order fast food deliveries at least once a week and spend £15 or more per person say that they spend a lot of money on clothes. Similarly, 38% of these respondents agree that they "pay extra to personalise products to suit taste and style." This willingness to spend on items of clothing is again reflected in the 31% of respondents that wear designer clothes.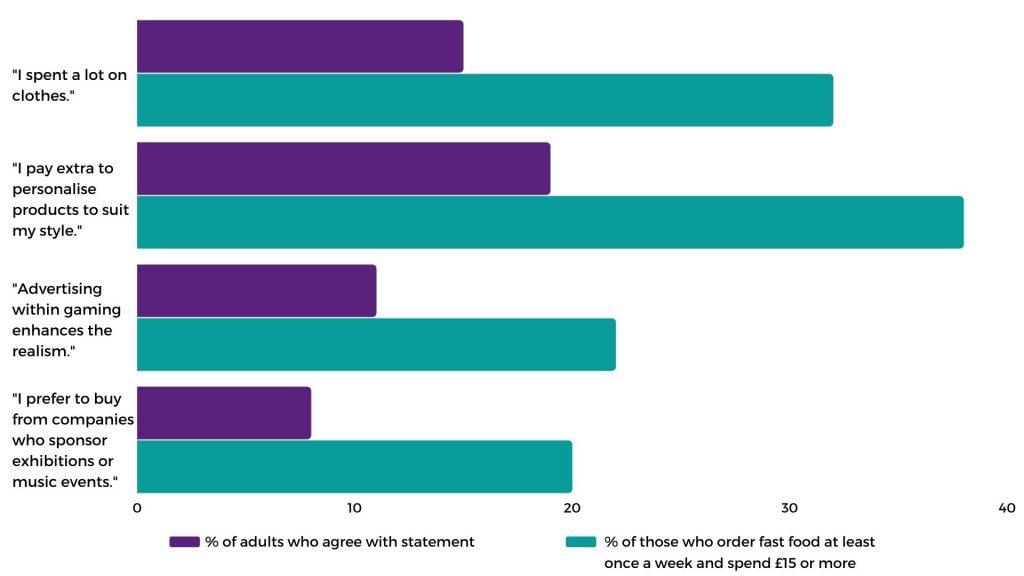 Some food delivery advertisers have already increased spend
Covid-19 essentially forced people to rethink how they get their food. It comes as no surprise that Deliveroo and Uber Eats both had higher demand as people were spending more time at home. During this period, people relied heavily on both delivery and digital services – creating a surge. Now, many people clearly continue to benefit from these delivery services and apps, despite being out of lockdown.
It wasn't just fast food on the rise, there was an increase in spend for Getir, Gorillas and Beelivery from June 2021 and again in August 2021. This was when the 'Eat Out to Help Out' scheme launched, offering a 50% discount on meals up to £10 per person. On August 14th, lockdown restrictions eased further – including the opening of indoor theatres and bowling alleys.
Fast delivery total media spend 2021-2022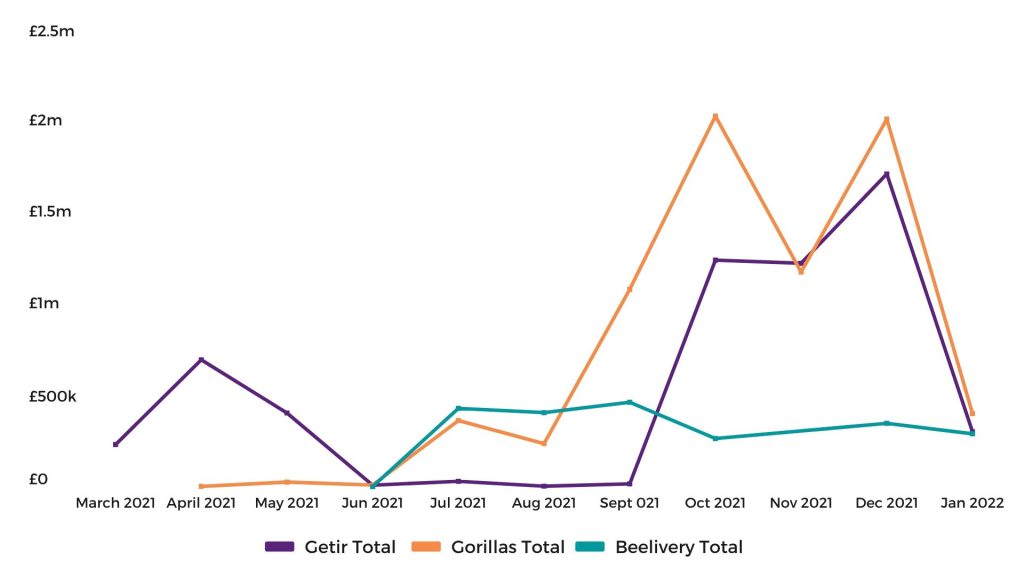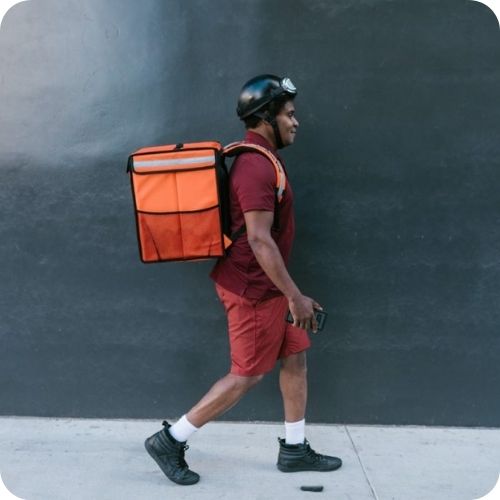 The gig economy
Like other big names in the gig economy, Deliveroo has faced criticism over workers' rights and pay. The surge in food delivery since the start of the pandemic has thrown a spotlight on the employment practices of companies whose business model depends on having armies of workers at hand to meet fluctuating demand.
When looking at those that are most likely to use fast delivery apps Uber Eats and Deliveroo, it's evident that it's mostly a younger demographic, including students and those living in rented accommodation or with parents, who are benefiting.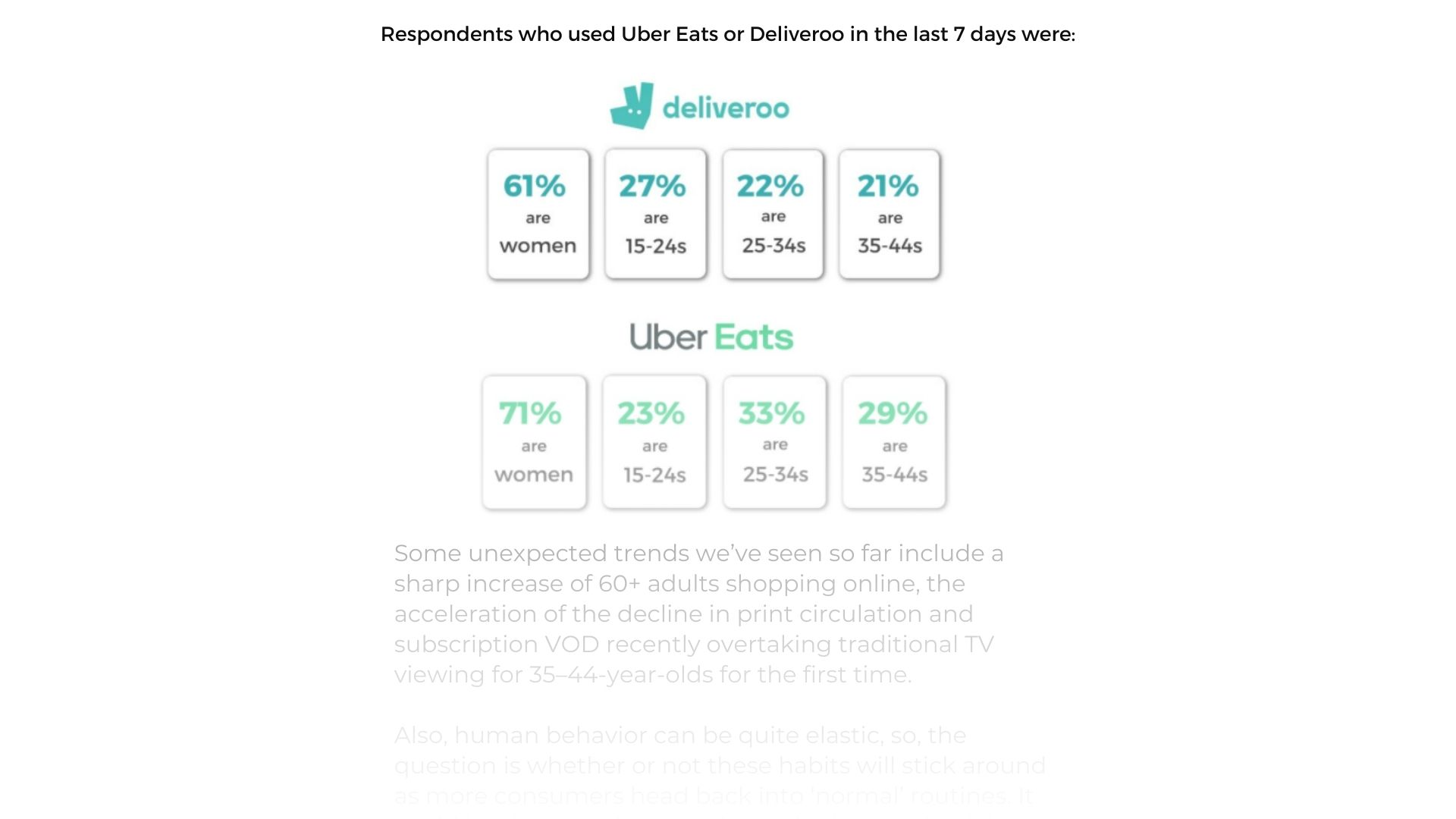 Contact us to see how we can use our advertising capabilities to maximise sales and the overall success of your TV campaigns.